Menopause Treatment is available at Dr. Shel in Sugar Land!
Dr. Shel Wellness & Aesthetic Center in Sugar Land offers menopause treatment to relieve women from symptoms associated with menopause.
Menopause occurs 12 months after a woman's last period and often begins between ages 45 and 55. The change in hormone levels in women affects their physical, emotional, and mental well-being, which can influence their daily lives.
Fortunately, menopause treatment has come a long way. With advances in medical science, menopause symptoms can be managed and alleviated. Menopause treatment in Sugar Land, TX involves replacing lost hormones to alleviate symptoms associated with menopause.
Are you struggling with menopause symptoms? Get back in control with Dr. Shel's natural menopause treatment plan! With years of experience treating women, we can help you regain control and live a healthy and active life.
Benefits of Menopause Treatment in Sugar Land
Dr. Shel Wellness & Aesthetic Center in Sugar Land offers menopause treatment for women experiencing the symptoms of peri- and post-menopause.
The following are the benefits of menopause treatment:
Reduces hot flashes and improves sleep quality
Menopause treatment can alleviate hot flashes and improve sleep quality, reducing stress levels.
Increases libido for better sexual experiences
Menopause treatment increases sexual desire and reduces vaginal dryness and pain during intercourse for better sexual experiences. It can also help with urinary incontinence.
Improves mood and sense of well-being
Women who undergo menopause treatment experience a decreased sense of anxiety and depression.
Enhances cognitive function
There is no need to worry about short-term memory problems or brain fog anymore with menopause treatment. It helps improve concentration, increase mental clarity, and reduce the risk of neurodegenerative diseases.
Strengthens bones
During menopause, bone density decreases, increasing the risk of osteoporosis. Menopause treatment can increase bone density to reduce the risk of fragile bones.
How Does Menopause Treatment in Sugar Land Work?
Dr. Shel's menopause treatment reverses the effects of low levels of estrogen and progesterone on women's mental and physical health during menopause.
During menopause, hormone production from the ovaries decreases, which is a natural process. Menopause brings about symptoms such as mood changes, fatigue, decreased bone mass, and urinary incontinence. As menopause approaches, these symptoms can progressively worsen.
A holistic approach to menopause treatment can reduce or eliminate menopause symptoms. In the last 30 years, hormone replacement therapy has greatly improved the quality of life of women with menopause.
Dr. Shel and her team conduct hormone tests to obtain a complete picture of your overall health. Then, they will create a customized menopause treatment program depending on each patient's needs.
Is Menopause Treatment for me?
Menopause treatment addresses symptoms related to hormone decline that occurs with age. These symptoms include
Fatigue
Mood swings
Weight gain
Brain fog
Low libido
Difficulty sleeping
Hot flashes
Night sweats
You should schedule a hormone health consultation if you experience any of these symptoms.
Dr. Shel has years of experience treating women suffering from perimenopause and menopause and can help you find the right natural solutions. Get back to feeling your absolute best today!
What to Expect After Menopause Treatment in Sugar Land?
You will be given a thorough consultation in our Sugar Land clinic regarding your signs, symptoms, and hormone concerns. We will carefully review your medical history before the procedure to determine if menopause treatment suits your needs.
A preliminary test can be performed via blood, saliva, or both to assess hormone imbalances in menopausal women. This is repeated every 3 to 6 months, depending on the physician's recommendation.
We recognize that not everyone suffering from menopause has the same set of symptoms or the same health goals. Dr. Shel provides individualized menopause treatment plans based on your test results to address specific areas that require improvement.
Considering that every patient is unique, it is difficult to say how long it will take them to notice the results of menopause treatment. In some cases, patients see remarkable results within a week, while others may need additional time and monitoring.
Menopause Treatment in Sugar Land, TX, Can Help You Live a Balanced Life
Menopause does not mean it's the end of your life. With menopause treatment in Sugar Land, TX, you'll feel sexier, younger, stronger, and healthier.
Dr. Shel Wellness & Aesthetic Center has served the greater Houston area for over 13 years. Dr. Shelena C. Lalji is a board-certified functional medicine physician practicing aesthetics and wellness full-time. Dr. Shel believes in the strong connection between the art of beauty and the science of wellness and is committed to empowering her patients to be their best selves.
Contact Dr. Shel today at (281) 313-7435 to learn more.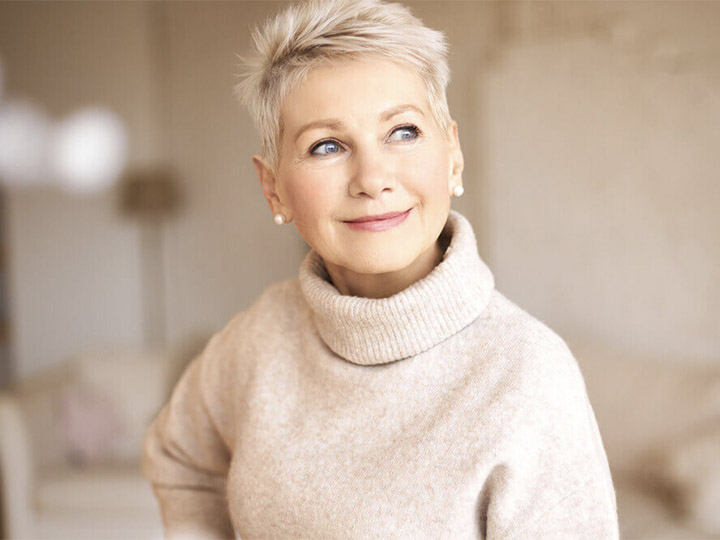 Common Questions About Menopause Treatment
What are the common signs of menopause?
The absence of a menstrual period for 12 months is one of the most telling signs of menopause. There are many signs of menopause, including hot flashes, night sweats, mood swings, sleep problems, vaginal dryness and itching, and cognitive changes. It is still possible to alleviate some of the symptoms of menopause with menopause treatment, even if it cannot bring your period back.
What is perimenopause?
Perimenopause is the transition between reproductive years and menopause. It generally lasts for many years and causes irregular menses, hot flashes, night sweats, and other symptoms. The postmenopause period includes all the years following menopause. For many women, it is an ideal time to reevaluate health.
What is menopause treatment?
Menopause treatment combats the signs and symptoms of menopause. In addition to replacing estrogen and progesterone levels in the blood, you can also improve your health by exercising, reducing stress, and eating a healthy diet. Sugar Land's menopause treatment is a holistic approach to improving your overall health.
Is menopause treatment safe?
When monitored and guided by trained medical professionals, menopause treatment can improve the quality of life safely and effectively. Dr. Shel will provide her recommendations for your wellness journey, allowing you to reach your health goals and improve your quality of life. Join thousands of Sugar Land and the greater Houston area women who have benefited from menopause treatment.
How long does it take for menopause treatment to work?
Menopause treatment plans vary depending on a patient's medical history, needs, and goals. At first, menopause treatment may have some side effects, and it may take a few weeks for the effects to kick in. If necessary, Dr. Shel and her team may adjust the treatment plan after a few months.
What are the risks of menopause treatment?
To avoid menopause treatment risks, it is essential to ensure that a complete family and medical history is considered. In some patients, menopause treatment may cause side effects, such as bleeding, bloating, breast tenderness or enlargement, headaches, mood changes, and nausea.
Check Out Our Reviews
Over 25 Verified Five Star
Google Reviews
I LOVE Dr. Shel and the team. They offer many, many services, making them a one-stop shop. Everyone in the office is polite, professional and friendly. They sincerely want to help you find the best solutions for your issues. I highly recommend Dr.Shel Wellness.

Have had a great experience here!

Morgan Harriman
2023-11-14

Maria was amazing Loved my hydra facial

They are all really nice.

Shelby Kastner
2023-11-02
The staff is awesome. Love Dr Shel. I've been her patient for hormone treatment for years and I feel great. Maria is great for Botox and laser treatments. Very experienced.

The staff is so friendly and the clinic is exceptionally clean. I will be going back and sending my friends and family too!

Nittasha A. Naidu
2023-10-25
Cheerful greeting upon arrival. No wait time for appointment. Everything was thoroughly explained and reviewed before leaving. Extremely pleasant experience.

Charlotte Sabatier
2023-09-19
Very helpful. Just started my wellness journey!

Anne K Woods (hianne)
2023-09-15
Great place to get back into shape

Hari Ravindran
2023-09-14
Dr Shel has been instrumental in helping meet my health and wellness goals! Thanks

Love everyone at Dr. Shell's!


Dr.Shel & Maria The Aesthetic Nurse Are Incredible! I came in to get my lips & Under-eyes Injected & my lips came out beautiful. I Also look so much more awake ! I love how natural I look but can definitely tell that I upgraded my face ! Definitely recommend!

Arianna Martinez
2023-08-29
Love everyone here! So kind and informative!

Most helpful doctors office I've been too! Every single staff member is excellent. They are the only people I trust to help balance hormones, etc.! Highly recommend.

I just competed my second month doing Semaglutide injections. I have been seeing a difference in my weight. They have been so encouraging and helpful. Definitely recommend. Rachel and Dazael have been great

Had an appointment today and Ariana and Dazel were a great help. They answered all my questions and made me feel welcome. Highly recommended.

Tawynie Renee Avalos
2023-06-30
I loved my initial visit with Dazel! The ladies at the front are extremely friendly & inviting as well. Dazel is knowledgeable, fitness aesthetic focused and extremely passionate about his clients. Excited to continue to come weekly and see my progress. Check out Dr. Sh...
Read more


Thea Goldin Smith
2023-06-28
Dr shell's solutions to my declined Health offered a new beginning for me. I am 46 years old, and when I visited the doctor and did the bloodwork, I had a host of serious health markers, Dr Shel formulated, a custom plan to put me back on track. Results, I have so far...
Read more

Good Hands Medical Transportation, LLC
2023-06-20
Always quick and easy and great results!

Jessica Longoria
2023-06-14
It is a lovely and clean office, very comfortable. The people are very nice and I highly recommend for any services you need.

Cassandra Khushf
2023-06-13
Love Dr shel! She's really helped me get to the root cause of my health issues and I feel so much better.

Kiran J Meghani
2023-05-04
Helping me get to my goal of being healthy and happy!

Maria was so professional and fun! She made my experience wonderful, I was getting laser hair removal for my first time so you can only imagine I was nervous, she was calming and quick with it! I definitely recommend Maria you won't be disappointed:)

Kayla Blackwell
2023-03-18
Maria at Dr. Shel Wellness and Aesthetic is absolutely amazing! She made my experience a pleasant one by ensuring my comfort and answering all my questions thoroughly and clearly. She is a great technician with lots of experience!

Maria at Dr. Shel Wellness and Aesthetic was amazing. She was well versed in laser hair removal and made me feel very comfortable. She answered all of my questions and explained the process thoroughly throughout the session. She was an incredible technician and I highly...
Read more

Dayanara Dubon
2023-03-15
Maria Mc Cord is THE BEST in the business at making you feel well taken care of in any spa experience!!! She is the STAR in the Five Star Treatment!! I'd follow her anywhere. Thank you for always making me feel special every time I come to the spa.

Christy Flores
2023-03-14
The ambiance here is spectacular. Staff are extremely friendly and explained the process step by step. Maria made me feel very comfortable & took her time. I highly recommend

This place has really turned around. Talking with Abbie Turner has really made making appointments a joy. Her polite and joyful personality really shows that she loves what she does. I highly recommend talking with her for all your esthetic needs.

Scanning their new QR code every visit is worth all the rewards you get!!!! What a Great new addition!!!

I'm in love with this place. I'm getting my health back thank god for Dr Shel and her approach to functional medicine. I did an Ultra Femme 360 and I'm finally feeling confident and I'm getting back into enjoying my life. No words to say how much I appreciate them all.

Wow!! Dr. Ponce is an incredible injector. She took her time to explain everything before we started and gave me some excellent advice for my home treatment. I highly recommend her to anyone

Claudia Suarez
2020-09-18
She and her staff provide excellent service and quality care. As with most things, you get what you pay for.

Dr D Ivan Young
2020-01-25
I have been going to Dr. Shel since 2006. I just met with her new nurse practitioner to go over lab results and she really explained to me what I was doing right and what could use some work in my wellness journey! My holiday plan was well laid out and I feel confide...
Read more

The young ladybug at The front desk s always polite and helpful, Savanna its very polite and great. Thank you ladies.

Wonderful services! Savannah takes extra special care to make sure you have a relaxing facial and laser treatment. Thank you!!!

Alicia Jimerson
2019-10-23
Dr Shel is always ahead of the curve. Technology moves fast and she's right there with all the new and revolutionary procedures as well as the tried and true. I can see why people travel so far to be her patient. I'm super fortunate to live close by. Her staff is top no...
Read more

I had a wonderful experience at Dr. Shel Wellness and Medical Spa. The staff was very friendly. Maggie was well qualified and very professional. Thank you !

Receiving a series of vitamin C infusions. So grateful that Dr. Shel uses the highest quality that is NON-GMO! She really cares about her patient's health and emotional well being. And her staff is wonderful!

Pamela Bregenzer
2017-07-22

I have been going to Dr. Shells office for several years. The staff is very friendly and and I am always very happy with my results.

Gloria Whistle
2016-05-03
Every treatment I have received has been perfectly designed to support my health and well being on all levels. I truly am able to have what I need and everyone here is a blessing!

Going to Dr. Shels now for about 2 years. Never been more happy or healthy in my life. The new facial and detox program is the greatest. Go every month and loving it. Thank you Dr. Shel for all your help in getting and staying happy and healthy.

I was really impressed at the great service, the very knowledgeable staff and the treatment that I received. I noticed a change in my appearance in just one day with the procedure I had. This was just my second visit but they now have a customer for life!! So excited...
Read more

Alice Peterman
2015-06-30
Since last year, I have a hydra facial every month and I can see a big difference in my skin. Never had so even tone and flawless skin. Vicky is just wonderful and very professional. Great service!

I am 59 years old. I was feeling depressed because I had just broken up with my girlfriend and I was 60 pounds overweight. I had Rosacea pretty bad and just wanted to give up on everything and everybody. But I got up the strength to start looking for a way out of my dep...
Read more

I finally found a doctor who really listens to me! Prior to my appointment with Dr.Shel's practice I researched my symptoms. I was pleasantly surprised she was very knowledgeable,thorough and spent more time with me than any doctor I have ever been to. It has now been 7...
Read more

From the moment I walked in the door to the moment I left; I knew I was in GREAT hands. I have been a patient of Dr. Shel's for 9 months now and have never felt more confident with my skin and health than I do now. She has helped empower me to feel and look my best bo...
Read more

My visit at Dr Shel wellness and medical spa has been. Memorable one. I am feeling much better on the inside as well as I'm looking good on the outside. I did not know that I was having an imbalance within my self until I discussed my concerns and issues with dr shel . ...
Read more

Vickie Michaels
2014-04-02
I first went to Dr. Shel after experiencing issues with low energy, anxiety, moodiness, unexplained joint/muscle aches, and just not feeling like I know I should. The atmosphere was not like a typical doctors office, but rather very relaxing and comfortable. The entire...
Read more

Dr. Shel is running an amazing practice. From the time I walked in until I left, I felt like the staff was so caring and attentive. The girl at the front desk actually watched my son while I was in my appointment. Lori, my consultant, spent so much time with me and even...
Read more

Jennifer Bassett
2014-01-04
My experience with Dr. Shel, Wellness and Spa has been an absolute Joy and a Pomona healthy journey. Dr. Shel is my Gynecologists and Skin health care Specialist. One product Dr. Shel introduces to me the IGrow machine. I experienced a great loss of my hair. I went to...
Read more