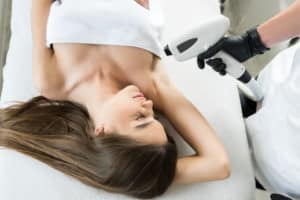 At Dr. Shel Wellness and Aesthetic Center we use a Fotona laser hair removal treatment. This method is safe, effective, pain-free, and allows for permanent hair reduction regardless of your skin type. The process for laser hair removal is easy. Simply give us a call or stop in for your consultation, come in for your sessions lasting no more than 60 minutes, and enjoy your results.
How is the Recovery Process for Laser Hair Removal?
There is no recovery process with the laser hair treatment at Dr. Shel Wellness and Aesthetic Center. Most patients experience no pain but sometimes there is mild discomfort. A numbing gel and cold air can be provided if needed immediately after and no further downtime is necessary.
Are the Results of Laser Hair Removal Permanent?
Typically patients will need 6-8 sessions for full hair removal. The process depends on skin type and coarseness of hair. Hair follicles grow at different rates and each treatment only targets those follicles in the active growing stage. There is about a 15%-30% hair reduction for each laser hair removal treatment session.
How to Prepare for Laser Hair Removal?
It is highly encouraged that patients shave the area that is being treated the day before treatment. While most patients find the treatment to be painless, a topical numbing cream can be applied to the more sensitive areas such as the bikini line.
More than one treatment will be necessary for complete hair removal, and the length of time between appointments will be determined at the end of the first session. It is important that the amount of time between appointments remains consistent in order for the treatment to be fully effective.
If you live in Sugar Land, Texas or it's neighboring cities, stop by Dr. Shel of Sugar Land or call today for your laser hair removal treatment. We can help you determine the best course of action for your laser hair removal depending on your skin type and the area you wish to treat. You can find us located at 1437 Hwy 6, Suite 100 Sugar Land, Texas 77478.