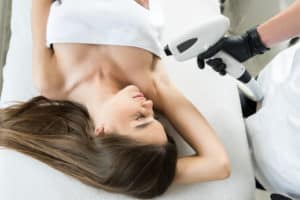 Trying to research laser hair removal can be a daunting task for anyone seeking advice on their first experience. Luckily, here at the Dr. Shel Wellness and Aesthetic Center in Katy, TX we have compiled resources and frequently asked questions about laser hair removal. Plus our staff will give you the guidance and counseling you need to make sure your first experience is a breeze and answer any more questions you may have.
Does Laser Hair Removal Hurt?
Most patients do not experience any pain during or after the treatments however some have reported mild discomfort. This can be alleviated by applying a topical numbing cream and cooling the treated areas after the session. Talk with a consultant of the Dr. Shel Wellness and Aesthetic Center staff to determine the best course of action for your skin type and the area to be treated.
Why Would I Want Laser Hair Removal?
Many people get laser hair removal treatments for aesthetic purposes and to remove the necessity of shaving. If your skin is easily irritated by shaving, laser hair removal may be the way to go. Here at the Dr. Shel Wellness and Aesthetic Center in Katy we use a fotona laser system which is easy on even the most sensitive skin. This system uses a longer wavelength, and innovative cooling design to achieve pain-free, and permanent hair reduction.
Assisting Those in Katy, Texas
We're happy to help those that live in Katy, Texas with our services. Katy is part of the Woodlands, Sugar Land, Houston Metropolitan area. It's right outside of the tripoint area and off of Interstate 10. Our office is located in Sugar Land, which isn't far from our neighbors in Katy.
Visit or Call Today to Learn More!
If you are ready to get rid of the hair on your body and stop shaving that sensitive area, contact the office of Dr. Shel Wellness and Aesthetic Center today. We'll let you know more about our laser hair removal in Katy, TX 77494 and how it can make a difference in your life today!