Radiesse in Houston
Radiesse | Dr. Shel Wellness and Aesthetic Center
Affected Areas
Radiesse is an FDA approved dermal filler that is used to fill in and correct smile lines, Nasolabial Folds and wrinkles around the nose and mouth. Radiesse also provides natural looking results in patients who want to restore volume to their cheeks and cheekbones to take years off of their appearance.
Before and After Photos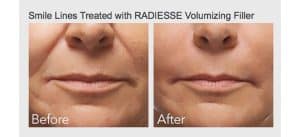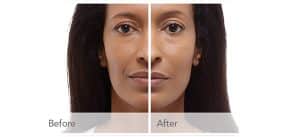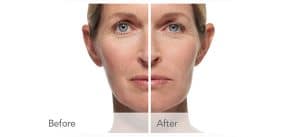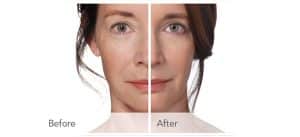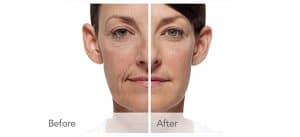 How Radiesse Filler Works
We provide each patient with numbing cream and ice while mixing the Radiesse Filler with Lidocaine for enhanced comfort during each treatment. Please notify the medical staff if you have previous adverse reactions to Lidocaine prior to your treatment. After injecting Radiesse's unique calcium-based micro-spheres, patients notice natural healthy growth of collagen while the experiencing immediate gratification of having a more youthful appearance. Radiesse injections are a convenient and simple treatment provided in less than 30 minutes.
Radiesse Recovery
We encourage patients to use arnica pre and post treatment to reduce bruising and swelling and recommend use of ice and Auroderm post treatment to provide optimal results with little to no social downtime. Some patients can experience mild swelling and bruising in the treated areas which can easily be covered with mineral makeup and typically resolve within 7 days of treatment.
The Radiesse Process
Initial Consultation
Procedure: 30 minutes per session
Sessions Required for Optimal Results: maintenance as needed every 6-12 months
Recovery Time: Little to no social downtime. Treated areas can be covered with mineral makeup.
To learn more about Radiesse, feel free to visit the Radiesse website
"I had heard about Radiesse and wasn't sure if it was the right time, or the right treatment for me, so I went to Dr. Shel Wellness and Medical Spa for a complimentary consultation. My concerns were that I didn't want to feel pressured into a treatment that I wasn't completely confident in and I wanted to look like myself after the treatment. My consultant was very knowledgeable, showed me several before and after pictures of the areas I wanted filled and I was very comfortable with doing the treatment that day. I have been back 1 time since my first injection and will not go anywhere else since Dr. Shel did such an amazing job of filling the areas I needed while still looking like myself…just a younger version.* "
FAQs
How is Radiesse different from other fillers?
Radiesse is the only filler clinically proven to stinulate your own natural production of collagen.
How soon will I see the results?
Treatment with Radiesse results in immediately visible results, and will continue to improve as it helps to stimulate your own collagen production.
How long does Radiesse last?
Results vary, but can it last for up to a year in many patients.
Does Radiesse hurt?
The pain is minimal as Radiesse is FDA approved to mix with lidocaine which greatly reduces any discomfot.
What is Radiesse made of?
Radiesse is made of tiny calcium microspheres and suspended I a natural, water based gel. Over time your body absorbs the microspheres and leaves behind natural collagen.