Microdermabrasion in Houston, TX
Affected Areas
Microdermabrasion is used to gently lift away dead skin cells which can build up on the surface of the skin and result in dry dull skin. It is most commonly used on the face but can also provide excellent results when treating the neck, chest and hands.
How Microdermabrasion Works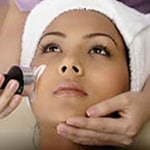 The skin is gently exfoliated with medical grade aluminum oxide microcrystals, creating a polishing effect which leaves the skin smooth and silky. The gentle massaging effect also stimulates the blood flow to the skin surface, which enhances skin cell renewal and the regrowth of collagen. At the same time the increased blood flow creates a flushing effect, cleansing below the skin's surface, leaving the patient's skin looking vibrant and healthy.
Recovery
Patients may experience a sunburn or windburn type of sensation with reddening of the skin's surface, however; makeup can be applied and normal activities can be resumed immediately following the treatment.
The Process
Initial Consultation
Procedure: 30 minutes per session
Sessions Required for Optimal Results: 4-8 with monthly maintenance to sustain desired results
Recovery Time: None