Acne Treatments | | Dr. Shel Wellness & Aesthetic Center
Acne Treatments Houston, TX
At Dr. Shel Wellness & Aesthetic Center we provide an acne treatment called Photo Dynamic Therapy (PDT), which uses a combination of Levulan and Blue-U. This has been shown in studies to be one of the most effective ways of treating acne effectively and safely. Photo Dynamic Therapy can be performed on any area of the body where actinic keratosis (AK's), acne or severe sun damage is present. Most commonly treated areas include: face, chest, back and arms. The treatment combines the use of ALA, Amino-Levulinic Acid, and BLU-U light to shrink oil producing glands and reduce acne. PDT is also extremely effective in treating broken capillaries and acne associated with Rosacea and targeting actinic keratosis and sun damage.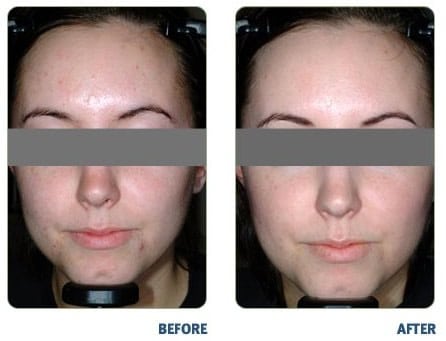 How BLU-U Works
Acne can affect both males and females at any age; it is not specific to just our pre-teen years. We do our best to offer our patients alternatives to prescription products to treat their acne. BLU-U Acne Treatments are an excellent alternative that is an extremely quick and effective treatment to treat mild to moderate acne. BLU-U uses a safe cool laser technology that has anti-microbial properties to reduce bacteria that may be present in the skin. BLU-U is safe for all skin types.
How Amino-Levulinic Acid Works with BLU-U
The treatment begins with an acetone scrub on the area to be treated followed by application of the ALA. The patient waits between an hour and an hour and a half while the ALA incubates and becomes active on the skin. After incubation, the patient is placed under our BLU-U cool laser for 17 minutes. Afterwards, the patient is sent home with a generous amount of broad-spectrum sunscreen and needs to avoid all UV exposure for 24 hours to avoid burning the skin while the ALA is still active.
Recovery
There is no down-time for Photo Dynamic Therapy.
The Process
Initial Consultation
Procedure: 20 minutes per session
Sessions Required for Optimal Results: 10-12
Recovery Time: None