A lot of us are really excited about this new piece of technology to help with those stubborn FAT areas. 
We just want to fit into our old jeans again. I always say, "muffins belong on the dinner table not on my stomach". The problem is it's almost impossible to spot reduce with exercise and diet you can't just remove fat from certain spots.
The latest technology though targets those hard to shrink trouble spots and I am here to tell you how it works.
One thing that is hard for a lot of us is not being okay with parts of our body.  It's that stubborn fact and trying lead a healthy lifestyle. So, let's just first of all say there's no substitute for a healthy lifestyle. Eat healthy, get yourself tested for food sensitivities, get rid of those inflammatory foods.
Balance your hormones with bioidentical hormones preferably. Get your testosterone level where it needs to be as a male or a female but do not overdo it. Get it balanced! Get your thyroid balance, get your stress down and then your body can respond to what you're doing to it.
There are different technologies out there that work on sculpting the body. We're not talking about dropping thousands of pounds we are talking about sculpting the body. Getting rid of those stubborn areas. 
We introduced Vanquish in the office, we already had CoolSculpting. 
CoolSculpting is great because it freezes the fat, but the applicators work and kills that fat cell permanently. That is the beautiful thing! With both of these technologies you want to not only kill the fat cells but get rid of it permanently from your body but do it without surgery, non-invasively, non-surgically, and no downtime. That's great! 
We now have a radiofrequency device called Vanquish Me by BTL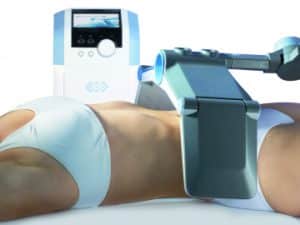 BTL Vanquish Me employs a first-of-its-kind patented technology using a contactless panel array that creates a high frequency Selective RF energy field that treats broad areas pf the midsection – a sharp contrast to other systems, which focus only on smaller, localized fat deposits. With the largest spot size applicator in the industry, this next generation fat reducing device provides natural-looking results across the entire abdominal and core area in four to six short treatment sessions. This is what makes this a wonderful device special that it can cover a larger area.
One of our patients Vicky was turning 40 and she started having this mid area that was just troublesome all of a sudden. Vicky came to our center and began first with Bio-identical hormone therapy. 
For women especially, sometimes that hormone shift is where we notice those changes with our body. Typically it's your mid area section that the hormones just start to show up. Vicky did combination therapy with balancing her hormones and doing several Vanquish ME treatment sessions. Her results were amazing!! Vicky regained her confidence, and she was so excited that she could not hide it!
Which is very cool because I one would imagine one reason why she liked the results and why she chose to do Vanquish Me treatments is that you're not going under the knife. It's not doing liposuction.
It's doing everything non-invasively. There's no device out there like that. 
There are other devices that shrink the fat cells but we want to destroy it and we want to get rid of them so they can't come back easily.
Another success story is Sean. For Sean, it wasn't just the external rejuvenation that he needed but also the internal. Sean was suffering from some fatigue. He was tired at the end of the day and was experiencing some brain fog. Sean really wanted to do something about his energy but also to increase the muscle mass. His wife, who is also a patient, had encouraged him to come get some testosterone testing. We customized a plan for Sean improve his energy and reach his goals with Bio-identical hormone therapy and some supplements to boost those levels. Sean saw some remarkable result from that program. Sean then wanted to start working on the areas in his midsection especially around the sides of his ABS. Sean began combining Vanquish ME treatments with his plan and WOW he got some incredible results. 
Sean was presenting the symptoms that showed that he was low on testosterone, and we wanted to bring him up to balance. We began with optimizing the testosterone safely and effectively. We don't want to overdo anything but get them in the optimized range. 
The other thing that Vanquish Me is great for is you have a different applicator which can address inner thighs and outer thighs both at the same time. When you think about it both areas going at the same time, in just thirty minutes you get inner thigh and outer thigh done on each side!
You typically need four treatments a week apart. For example you can customize, you come in you've got 45 minutes to treat this area and then you've got 30 minutes on each side with this. You come back next week do it again four times. Most people are losing at least one to two pant sizes at least one to two inches. We have patients that actually report losing up to four pants sizes.
You track your diet, balancing your hormones. I always tell patients continue healthy eating, continue hydration. Hydration is very important because you want that water to flush out all the toxins and get rid of that fat you need the lymphatics to work. 
So, if you're doing your part this is treatment is awesome for you! Especially with bathing suit season right around the corner.
You can treat several areas with Vanquish ME, give us a call to schedule your consultation today.
Dr. Shel Wellness and Aesthetic Center 
1437 Highway 6 Suite 100 Sugarland, Texas 77478
Tele: 281-313-7435
Email us at online@drshel.com