Summer Skin Care Tips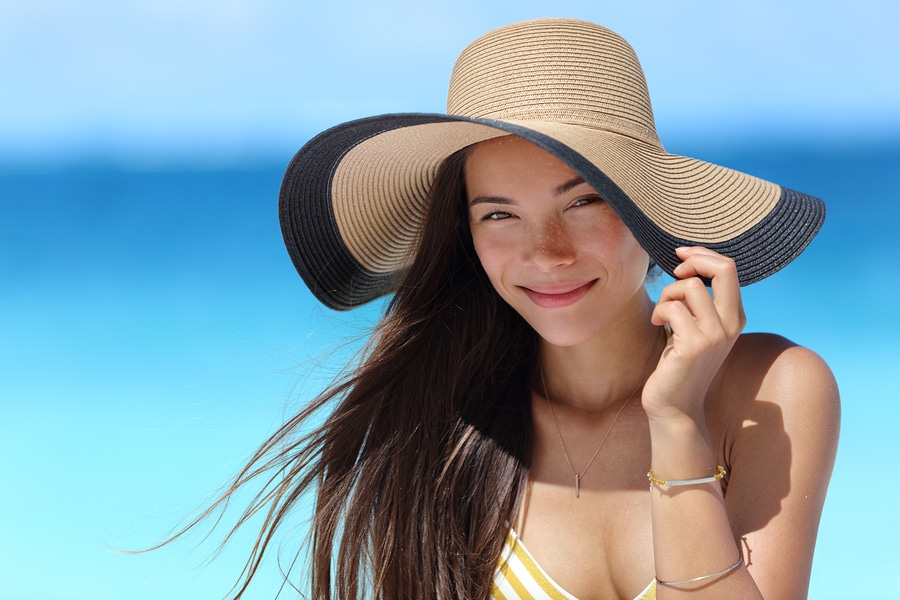 Summertime means more time outdoors and less clothing covering your skin. Summertime also means it's time to protect your skin more than ever. While a nice bronze glow may be desirable, I cannot stress the importance of being proactive when it comes to your skin's health.
Tan skin now means aged skin int the future. Ladies, you know what I'm talking about. You've seen the women who have hard, course, leather-y looking skin with brown spots and wrinkles. That is a direct cause of too much sun. Whether you're 30 or 60, it is never too late to care for your skin.
Below are the top 5 summer skin tips I recommend for maintaining healthy, beautiful and moisturized skin:
Exfoliate, exfoliate, exfoliate. When you exfoliate, you remove dead skin and debris that dulls your skin. It also prevents congestion in your pores and improves the hydration you will get from your toners and moisturizers. (Bonus: exfoliated skin helps make-up to stay on longer!) I recommend to exfoliate in the morning, prior to applying your toner, moisturizer and make-up. Please remember to always protect exfoliated skin with a broad-spectrum SPF. I always recommend Elta MD as a go-to daily SPF to protect your skin from both UVA and UVB rays.
Keep your skin hydrated from the inside out. Toner, moisturizer, masque…repeat. The summertime is the perfect time to amp up your regiment's level of hydration. Aside from external moisturizers, there are many foods and nutrients that also help keep your skin hydrated: cucumbers, melons, celery and strawberries, to name a few. Try incorporating more of each of these fruits into your diet to help hydrate your skin from the inside out. Additionally, a medical-grade fish oil, Biotin and vitamin C help keep your skin nourished during the hot summer months.
Become BFFs with your water bottle. Hotter temperatures and more time in the sun leads to external and internal dehydration, which can be very detrimental to your overall health. It is so important you keep your body and your skin hydrated at all times. Keep a bottle of water with you at all times and refill it 6-10 times daily to ensure you are staying hydrated. Drinking plenty of fluids throughout the day helps to maintain the critical moisture balance of your entire body, including your skin. It also helps to remove dangerous toxins from your body.
Sooth sunburned skin. It happens…you didn't apply enough or you forgot to reapply your sunscreen. Unfortunately, the damage is done but what you can do is help calm the redness and irritation and prevent yourself from suffering in pain. Apply cooling balms, such as fresh aloe vera, to over-exposed or red, peeling skin.
Treat and prevent sun damage. The UV light from the direct sun causes aging skin. This comes in the form of brown spots, coarse texture and wrinkles. While a tan looks nice, it's really very unhealthy for your skin in the long run and can cause very negative long-term effects. I can't stress enough the importance of loading your skin with age-fighting ingredients, such as Hyaluronic Acid and vitamin C, to help undo and damage that has occurred, as well as protect it from future damage.
Remember: it's never too late to start protecting your skin. Don't wait another day.
If you're concerned about your skin and would like to take the next steps to reverse the clock and prevent further signs of aging, contact us today for a complimentary consultation. Our team of aestheticians are experienced in many different aspects of skin care and would love the opportunity to help get your skin on the right track. Click here to schedule your complimentary consultation today.
Tagged with: skin care, sun damage
Posted in: Skin Care
Leave a response