Top 4 Nutrients for Hair Loss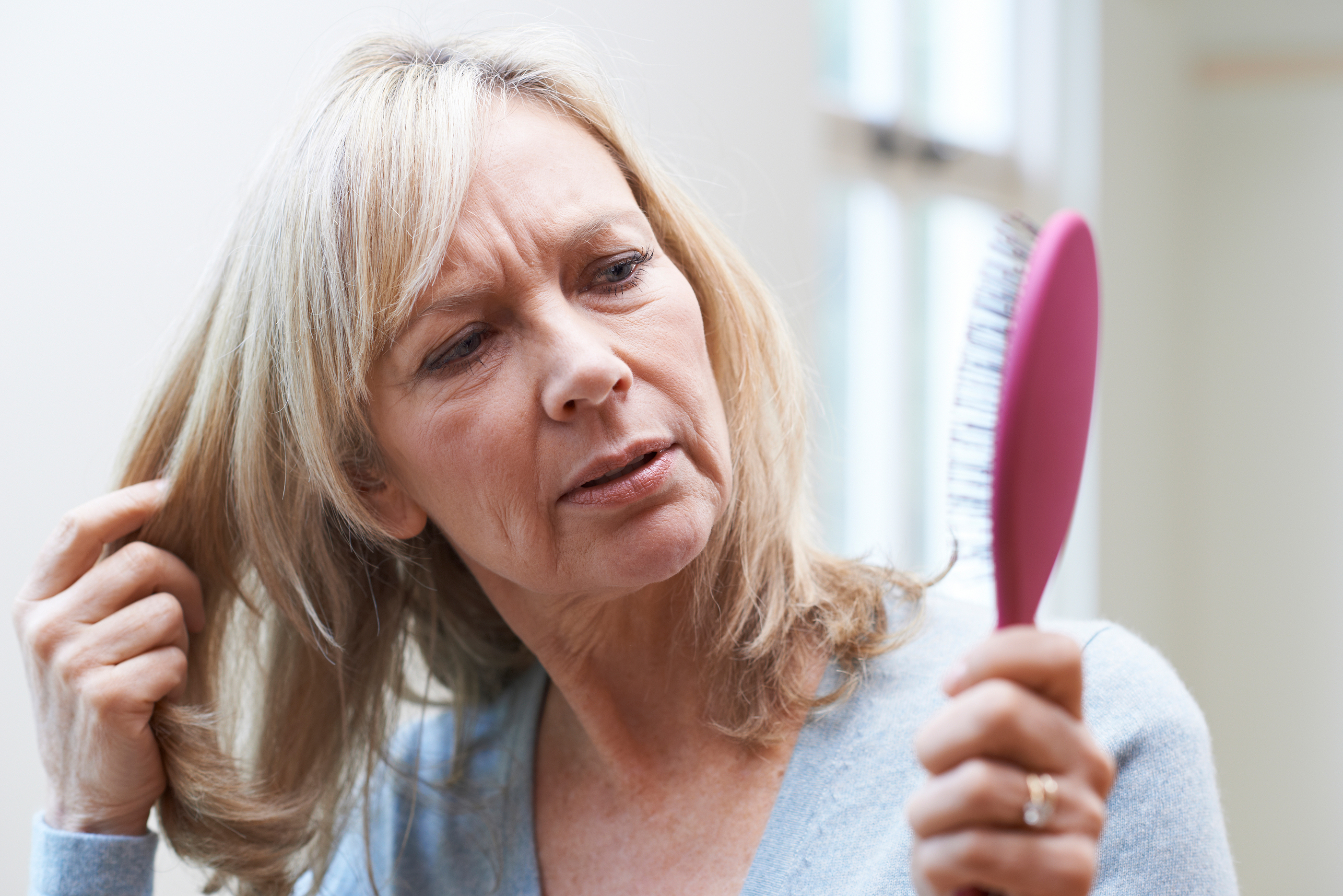 The appearance of your hair plays a huge role in your physical appearance, as well as your self-esteem and confidence. When someone experiences hair loss, it can be very devastating and traumatic, especially when it seems as if there is no rhyme or reason, nor can the problem be solved.
I can relate to this. After the birth of my son, Zade, I experienced extreme hair loss. My hair was thin, it was falling out left and right, and I was noticing small bald patches around my hairline. I understand firsthand how frustrating this can be, and my own personal hair loss journey is what inspired me to look further into this not only for myself, but for my patients who were experiencing the exact same thing. This is also what led me to create my at-home program Get Your Hair Back. I spent countless hours putting together an informational program to help eliminate hair loss for my patients once and for all. I tried numerous different treatments on myself to be able to share this information and hopefully end hair loss once and for all.
More than anything, throughout this research process, what I found most is that there are many, many natural solutions for hair loss, one of the most important being nutrition. In fact, poor nutrition and vitamin/mineral deficiencies, as well as hormonal imbalances, play a key role in hair loss. Today I am going to focus on nutrition, and how nutrition plays a key role in the health and growth of your hair.
Just like our skin, our hair ages. It is exposed to products, heat and chemicals on a daily basis, all which can cause breakage or damage. In addition to this, a lack in the proper vitamins and nutrition also contributes to thinning of the hair, breakage, damage or worse, hair loss. While some vitamins contain antioxidant properties to help fight these age factors, others help balance your hormones, which can help promote strong healthy hair.
If you're experiencing thinning hair or hair loss, here are my top 4 nutrients for getting your hair back to a healthy state:
DHA/EPA, also known as fish oil or omegas: These oils are rich in fatty acids, which have been proven to help improve both skin and hair. The omega-3 nutrients found in fish oil help to nourish your hair and promote thickness of your hair. I encourage you to not only consume omega-3 fatty acids in softgel form on a daily basis, but to also eat foods that are rich in omega-3s, such as salmon, tuna, egg yolks, walnuts and hemp seeds. In addition to strengthening your hair, fish oil is excellent for your skin and your heart, too.
B-Complex: Many B vitamins, especially Biotin and Pantothenic Acid have proven to be beneficial for hair loss. Biotin helps to rebuild the foundation of your hair follicles, while Pantothenic Acid (B5) helps to support your adrenal glands and in turn, promote hair growth. If you are losing hair, you are most likely deficient in Biotin and B5. Both of these can be consumed in a high-quality B-Complex supplement, as well as adding more B-vitamin rich foods to your diet. Eggs, beef, chicken, avocado, legumes and nuts all help prevent B vitamin deficiencies and in turn, promote healthy hair.
Vitamin C: Toxicity and oxidative stress play a huge role in the overall aging process of your body, skin and hair. Working as an antioxidant, vitamin C helps to combat oxidative stress and can help pull these toxins from your body, to help slow the aging process and damage to your hair and skin. Vitamin C can also help to fight free radicals that contribute to graying of the hair and hair loss. It's also important to be sure your diet is high in vitamin C containing foods, such as oranges, kale, Brussels sprouts, strawberries, broccoli and kiwi. Because vitamin C is water soluble and so easily flushed from your body, I recommend taking 1,000 mg of vitamin C per 25 pounds of body weight.
Vitamin D: Hormones also play a key role in your hair. Because vitamin D is a hormone, it is important to note that vitamin D deficiencies can lead to hair loss. Low levels of vitamin D can cause many diseases and illnesses, but regarding your hair, it can also mean hair loss. Get enough (but not too much) direct sun everyday. This is the best way to absorb vitamin D. By sitting in direct sunlight for 15-20 minutes each day, your body can absorb more than 10,000 IU of natural vitamin D. If you are not getting direct sunlight for at least 15 minutes each day, it is crucial that you supplement with a medical grade vitamin D supplement. You also want to increase your uptake of vitamin D rich foods, like salmon, swordfish, mackerel and mushrooms.
If you are suffering from hair loss, or thinning hair, know that there are alternative solutions to help rebuild the strength of your hair and eventually, re-grow it. I have helped many patients get their hair back naturally, and I am confident there are natural solutions to combat your hair loss as well.
Give us a call today or request your complimentary consultation to learn the many options you have to help regrow your hair and regain your confidence. 
Tagged with: biotin, hair, hair loss, hair loss vitamins, hair restoration, nutrition, vitamin c, vitamin d
Posted in: Hair, Skin & Nails
Leave a response