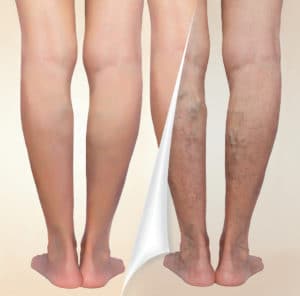 Spider veins, varicose veins, and bulging veins can be unsightly and embarrassing if you have them in a prominent area. Luckily, with our up to date laser technology at the Dr. Shel Wellness and Aesthetic Center in Katy, TX 77494, we are able to remove these veins with ease. Our pain-free method can provide vein visibility reduction in just one or two treatments.
Does Laser Vein Removal Hurt?
Before the innovation of lasers getting unsightly veins removed required invasive surgery which could leave scars, cause pain, and have a longer recovery time. With the laser vein removal at the Dr. Shel Wellness and Aesthetic Center in Katy, Texas, there is little discomfort during the process. Patients report a sensation that feels like a small pinch and quickly resides allowing them to continue on with their day as normal.
How Does Laser Vein Removal Work?
The laser targets the visible veins and rapidly heats and cools the veins in the treatable area. This causes the vein walls to collapse and over time they will disappear. Sometimes the results are immediate after treatment while some patients will see visible vein reduction in 3-4 months. If you would like to discuss in further detail how the process works feel free to give us a call at 281-313-7435.
Helping Those in Katy, Texas
With an office in Sugar Land, we have a great ability to reach many in the surrounding areas with our services, including those in Katy, Texas. Katy is a rapidly growing city located in the surrounding Houston area. With just a short drive down TX-99, our neighbors can be at our office to receive treatments or counseling without taking much time from your day.
Call Today!
Why wait any longer to get rid of unsightly varicose veins, spider veins when you could be walking around without trying to cover them up? Call the Dr. Shel Wellness and Aesthetic Center today and see how laser vein removal in Katy, TX 77494 can have you walking out the door with more confidence in your step today!