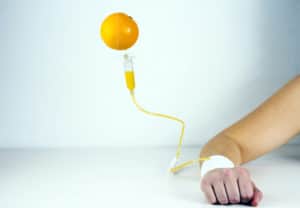 If you have been in search of a natural way to improve your health and wellness, then let our team help you. At Dr. Shel Wellness and Aesthetic Center, we are passionate about using ingredients our bodies need and desire to cure common ailments and improve overall well-being. One of the ways we do this is through IV or Intravenous Therapy.
We Practice Intravenous Therapy to Cure Health Issues
With IV Therapy, our team is able to immediately supply your body with the nutrients, vitamins, minerals, and other natural substances it needs. By pumping these directly into the bloodstream and avoiding the digestive system, their effects are seen at a much faster speed.
Some of the IV Therapies we provide include:
Myer's Cocktail – contains magnesium, Vitamin C, B Vitamins and other nutrients to treat improper nutrition
Migraine – uses Magnesium Sulfate to relax muscles and blood vessels, while reducing inflammation to reduce the occurrence of migraines.
Weight Loss – contains Carnitine, B Vitamins, and lipotropic agents to aid the body in burning fat
Skin Glow – uses Glutathione and Vitamin C to improve skin pigmentation and minimize and prevent age spots
And many more!
Visiting Us from Katy
Currently, our office is located at 1437 Highway 6, Suite 100, Sugar Land, Texas 77478. However, we proudly serve Katy and the surrounding areas. 
Here is how to find our office from Katy:
Take I-10E
Merge onto TX-99 all the way to US-90 ALT E via FM 1464
Continue on US 90 ALT E
Take a right onto TX-6 Access Road then jump on HWY 6 S
Follow for 3.8 miles and the office will be located on the left
Call Us Today!
If you are looking to take charge of your health and wellness, call our team and set up your appointment at the Dr. Shel Wellness and Aesthetic Center. We look forward to serving our neighbors in Katy and the surrounding areas!