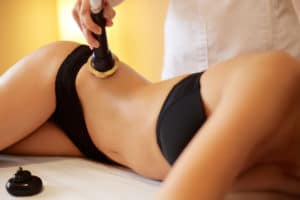 If you have been searching for a way to improve the look of your body without a surgical procedure, then we may have a solution. At Dr. Shel Wellness and Aesthetic Center, we use non-invasive procedures to help our patients combat fat and cellulite. It is our desire to have healthy, confident patients with every treatment we perform.
We Assist Our Patients with Body Contouring
Even though you may eat healthy and exercise, there are times our bodies need a little assistance to help tighten them up. This is where body contouring and cellulite reduction come in. Our non-invasive treatment plans can be performed right in the office and will leave you with dramatic results.
Some of the treatments we perform include:
Vanquish ME – uses heat to minimize the fat layer and provide definition to the waist and abdomen
Exilis ULTRA – transmits a radio frequency and ultrasound energy to reduce fat and cellulite while tightening the skin
Fotona TightSculpting – employs a dual-wavelength laser to reduce cellulite, body contouring, and tighten the skin
Finding Our Office from Katy, Texas
While our office is in Sugar Land, we proudly serve our neighbors in the surrounding area, including Katy! We are located at 1437 Highway 6, Suite 100, Sugar Land, Texas 77478, just a little over 20 miles from Katy.
Once you have arrived on Highway 6 from Katy, you will travel this road for a little over three miles. Our office is located on the left across the street from a gas station and just before you reach Brooks Lake. We have a parking lot conveniently located in front of our building for easy access for our patients.
Call Our Team Today!
So, if you have been considering changing how you look and feel, don't hesitate to call our team. At Dr. Shel Wellness and Aesthetic Center, we appreciate any opportunity to share how our services can make a difference in your body and mind.