Anti-aging: A Fresh Start For Your Skin
There's something wonderful about a new year-it's as if we all get a new beginning where anything is possible.
We could all use a fresh start sometimes, even when it comes to our skin.  If anti-aging is what you are concerned about, then my skin hydrating kit may be just what you need!  This kit, along with a high-quality cleanser, can correct visible signs of aging and deeply hydrate skin for a younger looking, revitalized complexion!  My kit contains everything you need to treat, enhance, protect and moisturize your skin.   All of the products in this system are Made in the USA, Non-Comedogenic, Paraben Free, and Cruelty Free.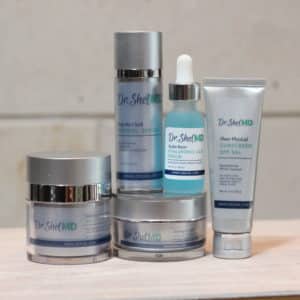 Of course, it takes time to create the wrinkles and it will also take time to remove them!
So what if I wanted a quick fix for fine lines and wrinkles?
Pearl Fractional can erase years of stress, sun damage and just simply age from your skin?
What is Pearl Fractional?
Pearl Fractional is a single treatment laser designed to improve imperfections due to aging and sun damage. Patients also notice a smoother, brighter complexion overall.  Pearl Fractional offers the best combination of safety, patient experience and recovery time.
During the procedure, the laser uses heat to create tiny holes deep in the skin. The process removes sun-damaged tissue and then stimulates the growth of healthy, new skin, full of fresh collagen. This plumps the skin from below, repairing photodamage and other skin imperfections.
What does "fractional" mean? How does the Pearl Fractional treatment work?
Fractional therapy describes a treatment that affects only a fraction or small percentage of the skin. With Pearl Fractional, laser pulses treat damaged cells deep in the skin. This fractional treatment selectively removes columns of tissue leaving surrounding skin intact. This treatment shortens healing time and stimulates the body's own natural process for creating new collagen!
If you're looking for a big change in the new year, this treatment could be just the thing to give you a NEW START AND NEW YOU!  Consider meeting with us to talk about how the Pearl Fractional can change your skin and can help turn back the hands of time.  Call us at (281)313-7435 or schedule a complimentary consultation today!
Tagged with: fine lines, pearl fractional, skin hydrating kit, skin tightening, wrinkles
Posted in: Beauty, Hair, Skin & Nails, Skin Treatments, Uncategorized
Leave a response